---
***OUR ONLINE REGISTRATION FOR THE 2019 HAMPTONS SOLDIER RIDE IS CURRENTLY CLOSED.***
YOU CAN STILL JOIN THE FUN - REGISTER ON THE DAY OF THE EVENT!
Register in person on the day of the event, July 20, 2019, at the start location via credit card, check, or cash!
---
---
Be inspired. Ride to honor injured veterans on Soldier Ride® Hamptons
You have an exclusive chance to show your support for wounded warriors and their families by riding alongside them in Soldier Ride. Reserve your spot now on this exclusive community ride.
Additionally, your contribution goes toward helping warriors recover. You help ensure warriors never pay a penny for Wounded Warrior Project® programs — since they paid their dues on the battlefield. Our free services in mental health, career counseling, and long-term rehabilitative care change lives.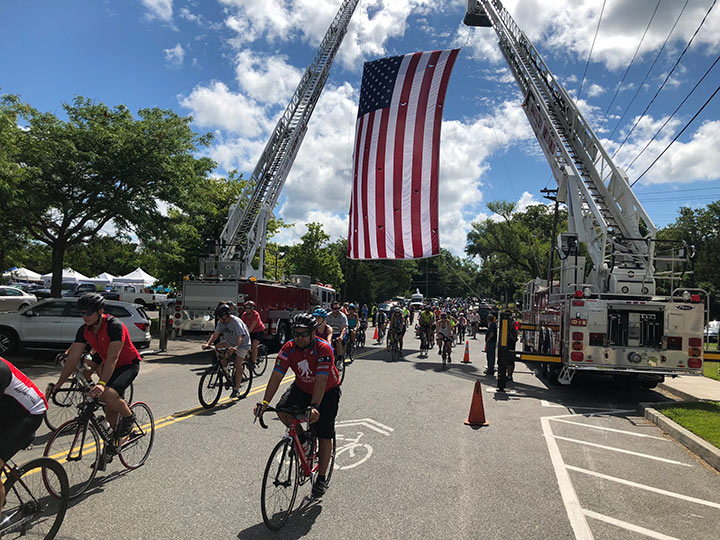 EVENT INFORMATION

Celebrate the summer vibes of the Hamptons while supporting wounded warriors. Get ready to cruise along stretches of beach, waterfronts, and an interior of farmland, towns, and villages with 18th-century shingle buildings and estates hidden behind tall boxwood hedges.
When you join this ride, you witness how you can help heal the warriors and support their caregivers riding alongside you.
There is music, food and a summertime atmosphere only found in the Hamptons. Show your support for this nations wounded warriors than by registering to ride, fundraise and support during Soldier Ride.

On the day of the ride, make sure to bring your bicycle, helmet, and water bottle(s).
Download the 25 mile ride map route.
Download and read the safety pamphlet. You are responsible to know the rules of the road.
Transportation will be provided via shuttle bus back to the starting location.


Schedule of Events
7:00 AM
Community ride registration and packet pick-up
8:30 AM
Opening Ceremony at Amagansett Farm
9:00 AM
Soldier Ride begins at Amagansett Farm
11:00 AM
Lap of Heroes at Marine Park
Post-Ride
Community picnic
Q: What does the registration fee include?
A: Event Day Festivities, a Bib Number, and lunch.
Q: What is NOT included in the registration fee?
A: A Soldier Ride tee. All riders must raise $35 or more to qualify for a t-shirt.
Q: Can I register the day of the event?
A: Yes. Event day registration is $50, and can be paid via: cash, credit, or check.
Q: Are there any promotions?
A: Email
WWP Signature Events
if you are: Active duty military An active duty military family A student Want to start/join a team